Ever since I was little, I wasn't a fan of summer. Sure, summer means vacations, three months of no school work, the warmest months of the year...but for me, it also usually meant boredom. And I hate being bored - it makes me restless and cranky.
That's why, when I got to college, I either worked or went to summer school...because I didn't want to sit at home bored for three months and lose brain power. I haven't had a full summer off since the summer after my senior year of high school, so transitioning from the school year to the summer is pretty much non-existent for me...it's all just working days. Which, of course, I don't mind - it's all part of being a grown up.
But this summer...holy moly this summer. I am
not
a fan, at all - and I blame the blasted heat. I'm not sure if this will go down as the hottest summer on record, but it's damn sure gonna come close. Example: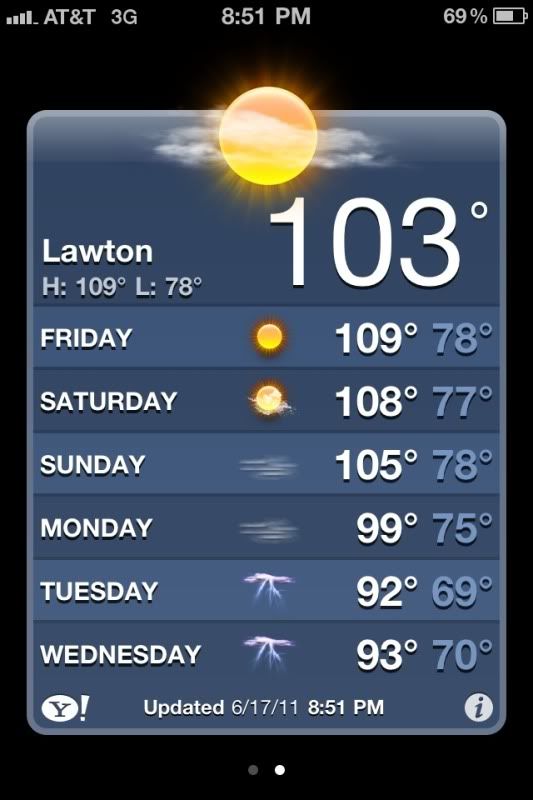 This was the temp when I got back to Lawton on June 17. And the forecasted highs of 99, 92 and 93? All those days, it went above 100. Lawton hasn't seen a temp below 75 since like, June 23. It's just about the same story in Stillwater - last week, we hit 113 for a high [
before
you factored in the heat index]. WTF mate. I mean, we
are
in Oklahoma...we expect for it to get hot during June, July and August. But this year has absolutely taken the cake, and not in a good way. We had this crazy storm blow through last night that knocked out power for 7+ hours, and Stillwater got some rain over the weekend, but that's the first real taste of rain we've had in weeks.
With it being this hot, outdoor activity is very, very limited. JJ's daycare quit letting them go outside back in June, when the temperatures really started to stay above 100 consistently. The last time he and I played outside after work was the day before I took the above pictures, June 16 - I think the temps had dropped back into the '90s after I got off work, so I let him play at the park for 20 minutes before it got too hot.
Isn't he adorable? Anyway, I know there are all these weather reasons why it's so hot and dry, but the bottom line is, it's TOO hot and dry this summer. Which means we'll probably have an unusually warm and dry winter, which will provide little relief for this blasted drought we're in. This year, more than ever, I'm ready for fall. Even if fall means the leaves will all be gone by the beginning of October and we have to wait until Halloween for the temperatures to drop below 90 degrees, that's fine. I'll take that right now compared to this 110+ degree crap we've been putting up with for weeks on end. I just want to be able to go for a run outside. Or take JJ out at 1pm on a Saturday without fear of sweating off 10 pounds while we wait for the car to cool down [or burn away on my leather seats].
So, dear summer, I will be more than happy to say
Bye, Bye, Bye
to this summer and hellooooo to fall. And these bad boys that will be taking the field starting September 3.