I've been collecting t-shirts for years now. Most of my shirts pre-high school are donated or long gone, but most shirts I've acquired since 2001 are still in my possession. I wasn't sure what I'd do with them, but I'd been mulling the idea of a t-shirt blanket for years now. I just never got around to finding a company that could do it [and don't even mention the idea of me doing it myself - i'll laugh so hard, milk will shoot out my nose].
One day in May 2010 though, I was on Groupon and found
Campus Quilt
, a company that does just what I was looking for. I bought two Groupons and, true to my procrastinator form, didn't use them for almost a year. The day they were set to expire, I finally ordered my kit and got down to business.
With Campus Quilt, it's simple: they send you a kit; you decide what kind of quilt you want and if you want any extras with it; you pick out your shirts and put stickers on them to indicate which shirts/sides you want on your quilt; package it all up; drop it off at UPS; and impatiently wait for the finished product. It took a month for me to get the shirts all picked and washed, and about 3 weeks for the shirts to be turned into a quilt and sent back to me. But let me tell you, I'm in love.
They did such an amazing job - I mean, look at it! I ordered a stadium quilt and used 15 shirts for 16 squares. This blanket covers a good like, seven or eight years of my life. The first square? Senior Week shirt. The one underneath it? Shirt from my junior year volleyball team, when we made it out of area to regionals. A majority of the shirts are from my college years [the Stout Spring preview shirt was so special to me, i had both the front AND back featured on the quilt], and I even included a shirt from my sister's campus and my love of my OKC Thunder.
This quilt is more than just shirts though. This quilt represents a big part of my life, especially my college years. Each shirt holds a special meaning to me, and each shirt carries its own set of memories that are near and dear to my heart. Years from now, I look forward to sharing this with my kids and sharing the stories of these shirts. I plan on getting at least one more t-shirt quilt made, and I'll probably have one made for each of my kiddos [how ever many kiddos come after JJ] as graduation presents. JJ may already have claim on this one though.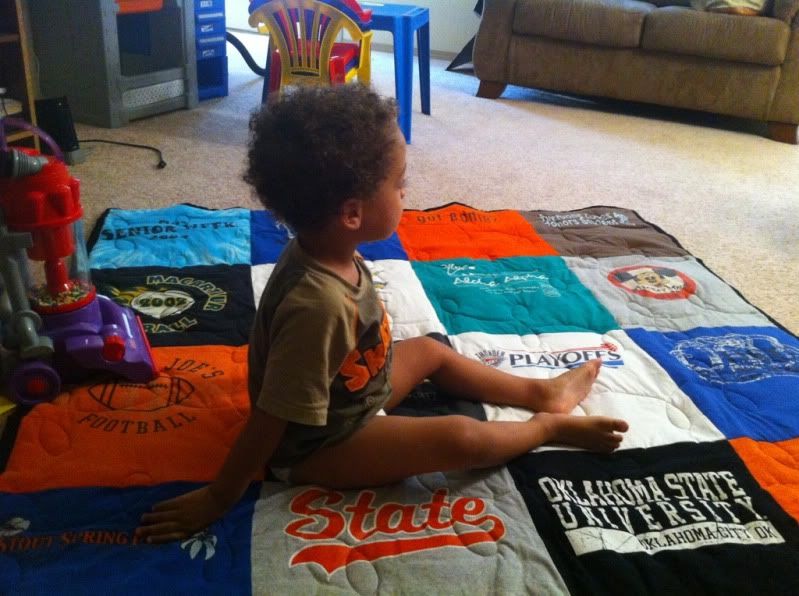 So thanks, Campus Quilt, for doing such an amazing job preserving memories that are the most precious things I have made out of cotton [and combinations of other materials with cotton]. I wasn't sure what I was expecting, but this definitely beat my expectations. It definitely brought a smile to my face.