This was me on January 9th, 2013. I had just finished W1D1 of C25K [60 seconds jogging, 90 seconds walking for 20 minutes] and thought I was going to die:
And this was me on April 28, 2013.
I did it. I ran my first 5K. Holy crap.
It's been more than 24 hours since I crossed my very first finish line for my very first 5K. I still feel like I'm on top of the world today, but I'm just not as sore as I was yesterday. :)
Back in December, I signed up for the OKC Memorial 5K. I wanted to run this because of the significance this event has in Oklahoma, and the impact that the OKC bombing had on this state. I wanted to run it at least once, so I decided that 2013 would be the year. I woke up at 5, got ready and tried not to puke. I couldn't believe that after 3.5 months of training - and two years of talking about it - I was actually about to run my first 5K. I only had one goal: finish. Well, finish in 40 minutes. I also had a secondary goal to run at least 2.5 of the 3.1 miles, but that wasn't as important as just finishing the thing.
My sweet husband woke up with me and drove me to Bricktown, and we decided to park out of the way [and by out of the way, I mean just about half a mile away from the start line]. The whole walk to the start line was so nerve-wracking...I was clinging to his hand, trying not to hyperventilate. But as I got closer and saw all of the people that were there, I started to relax. I figured that because so many people were running, I wouldn't be singled out - I would just blend in. That was comforting.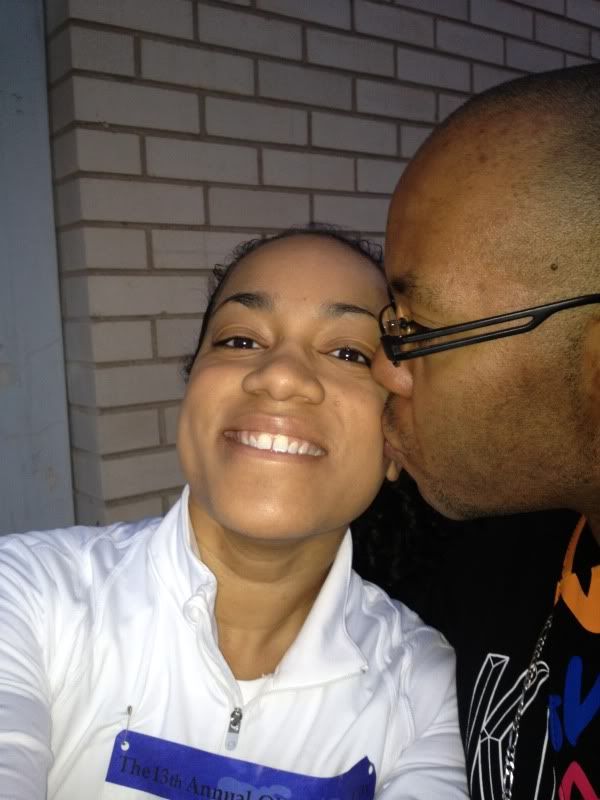 Pre-race good luck kiss!
The marathon/half/relay took off at 6:30, and it took them just about 20 minutes to clear the start line - that's how many people were running [the event expected 23,000 runners across all the races, and they probably got close to that]! After that, the thousands waiting to run the 5K were given a two-minute warning, then we took off. I walked from the corral to the start [not even 1/4 of a mile], prayed that I would finish and hit the pavement.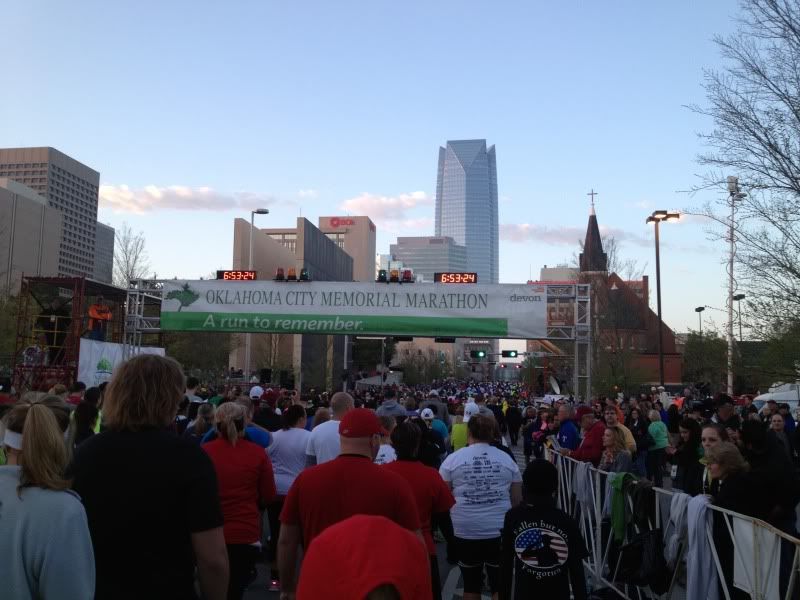 Walking up to the start line...along with 4000 other people.
I was so full of adrenaline that first mile that I probably ran too fast; I made the first mile with no issue but was starting to get warm - and my legs were protesting - by the time I hit the 1.25 mile mark. At that point, I would do run/walk intervals like I had done during my training. The second mile was hard because it had a lot of inclines...that, and I had no idea where we were going or where we would hit the 2-mile marker. I knew the area really well because it's not far from where my sister used to live, but I hadn't quite paid attention to the map to see where the mile markers were. Oops. I'll definitely do that next time.
When I hit the 2-mile marker, I decided to just give it my all. I walked for three minutes - enough time to catch my breath - then I just ran it out. I don't know how long it was [I probably ran the last mile or so]; I just told myself to gear it up and kick ass. I had this sudden burst of adrenaline about 1/2 a mile from the finish line and just felt like I could finish strong - so I blasted my music and just hit it.
We hit a set of barriers and were forced to turn left, and that's when I saw it - the finish line banner. There were people cheering and waving, and I just started crying. Yes, I cried while I finished the last 1/4 of a mile [people who know me should not be surprised by this]. Seeing that finish line was so overwhelming...all of the work I had put in was about to pay off. I will never forget hitting that finish line; it was one of the coolest moments of my life. I had accomplished something big. I know a 5K may not be that big of a deal to most people, but to me, it's giant.
I finished at right under 39 minutes, and I had run more of the course than I had walked, so I was fine with where I was. For my first 5K, I walked in with no real expectations - I just wanted to finish. And I did! I run again in two weeks and will try to run every other day so I can pull off a 12-minute mile. By the end of the summer, I want to pull it down to 10. Considering where I was in January...not even able to run 1/4 of a mile without wanting to pass out...this is major progress. I'm stoked.
I'm so grateful for my amazing husband, who took leave to come support me. And I'm grateful for my awesome parents, who watched JJ while I ran [and watched the news to see if they could see me - one of the local news stations covered the entire race]. Thanks to all of the friends and family who texted for said something on Facebook/Twitter; your support is so very much appreciated. There will be many more 5Ks in my life, but there will only be a first 5K - and this one will remain a special one for the rest of my life.