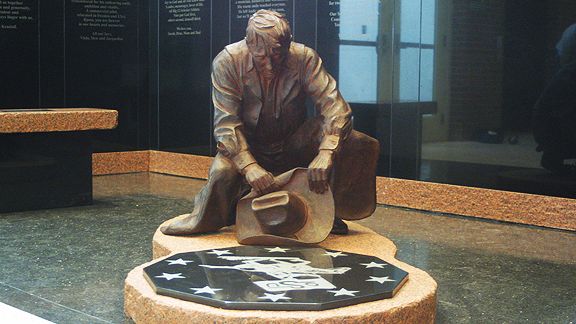 January 27, 2001. The day Oklahoma State University changed forever.
On that fateful night in Colorado, the OSU family lost 8 members of its men's basketball team and staff in a plane crash, along with both pilots. It's hard to believe that ten years has passed since they were lost...time does heal all wounds, but I think a small spot will never heal in the hearts of the Cowboy faithful.
Last night, OSU played Texas at home and commemorated the 10-year anniversary of the accident. From the commemorative t-shirts [that members of the texas basketball team wore throughout warm-ups and the game, a classy show from a classy team] to the halftime speeches to the videos, photos and memories, to retiring the number 10 [the only number to ever be retired]...it's been a hard few days. I think the wounds have reopened as this milestone comes and goes, and everyone is taking the time to remember that day, where they were, who we lost.
When the accident happened, I was a freshman in junior high [we had junior high/high school back in the day]. I wasn't anywhere near thinking about college - or even OSU, for that matter [i grew up in ou country]. I wasn't that big of a college fan back then, so I remember hearing about it, but that's about it. As the years went by, I decided to go to OSU and the anniversaries came up again and again, I became more connected to the tragedy. I've seen the memorial, read the articles, heard the stories...and it affected me. Even though I wasn't a student here at the time, I became a student, became an alum, and became a part of the family that will forever mourn those who were gone too soon.
I figured out yesterday that J lives about 100 miles southwest of the crash site, so I will be driving north to go pay my respects when I go visit this spring. A part of me isn't looking forward to it - I mean, I'm going to the site that forever changed OSU, as well as so many lives. But a bigger part of me can't wait to go. To wear my orange. To lay flowers. To pay my respects to the men who are gone, but will never be forgotten.
So today, we OSU Cowboys remember the ten we lost:
Kendall C. Durfey [television/radio engineer]
Bjorn G. Fahlstrom [corporate aviation pilot]
Nathan Z. Fleming [player]
William R. Hancock III [media relations coordinator]
Daniel P. Lawson Jr. [player]
Brian W. Luinstra [athletic trainer]
Denver R. Mills [pilot]
Pat Noyes [director of basketball operations]
Bill Teegins [Voice of the Cowboys]
Jared G. Weiberg [student assistant]
We will never.ever.forget.